Induction - How To
Equipment Inductions
Inductions are required for various machines around the space including the laser cutter, 3D printer and the woodworking area. Our inductions are a mixture of face to face instructions and also online through our learning platform at [https://moodle.hacman.org.uk] (https://moodle.hacman.org.uk) To access this use your member system username and password.
For a tool eg the Laser that requires an induction you should ensure using the tools & equipment page on the members system and simply click on the tool name under the tools & equipment page. Scroll down to the section that reads " To use this piece of equipment an access fee and an induction is required. The access fee goes towards equipment maintenance"" click the Pay Now button to pay the access fee EVEN IF THE ACCESS FEE IS £0 you must click the pay now button for the system to register you as requiring an induction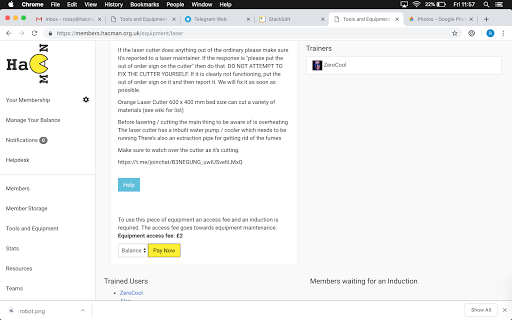 Once you have done the above you will be enrolled onto the appropriate moodle course for the induction and you should also make contact with a trainer to arrange any required in person training this can be done via moodle or through telegram.